Michael Ryan Flatley (born 16 July 1958) is an Irish-American step dancer, choreographer, musician. He became internationally known for Irish dance shows Riverdance, Lord of the Dance, Feet of Flames, and Celtic Tiger.
Michael Flatley is a native of the South Side of Chicago, born to Irish parents. He began dancing lessons at 11 and, in 1975, became the first non-European resident to win the All-Ireland World Championship for Irish dance. He is a trained amateur boxer as well as a proficient flute player, having twice won the All-Ireland Competition. In dance, Flatley was taught by Dennis Dennehy at the Dennehy School of Irish Dance in Chicago, then went on to producing his own show. After graduating from Brother Rice High School, on Chicago's Southwest Side, he opened a dance school.
He was the first American to win the World Irish Dance Championships and also won numerous All-Ireland Flute Championships. From 1978-79 he toured with Green Fields of America. Later he toured with The Chieftains in the 1980s.
He received the National Endowment for the Arts' National Heritage Fellowship in 1988.In May 1989, Flatley set a Guinness Book world record for tapping speed at 28 taps per second. Flatley was named one of National Geographic Society's Living Treasures in 1991 for mastery of a traditional art form by a living person – the youngest person at that time ever to receive this accolade.
Michael Flatley choreographed the original Riverdance and led the show to great success as the intermission act in the Eurovision Song Contest on April 30, 1994. He then starred in the full-length show that was developed from the original seven-minute act. After leaving the show, Flatley produced, directed, and choreographed Lord of the Dance. He also put together a dance production called Feet of Flames in 1998. He later went on to produce another version of that show of which around 50% of the numbers were different from that of the 1998 show. Titled 'Feet of Flames The Victory Tour', he toured Europe in 2000 and the USA and 2001.
He broke his own record for tapping speed in February 1998, by achieving 35 taps per second.
Michael Flatley also received Guinness Book recognition in both 1999 and 2000 for being the highest paid dancer, earning $1,600,000 per week and for having the highest insurance premium placed on a dancer's legs at $40,000,000.
In December 2001, Michael Flatley became the first recipient of the Irish Dancing Commission Fellowship award, an honorary degree in Irish dance, and was simultaneously made a Fellow of the American Irish Dance Teachers' Association. Irish America magazine named Flatley Irish American of the Year in March 2003.
In 2004, Michael Flatley received an honorary doctorate degree from University College Dublin and that same year received the prestigious Ellis Island Medal of Honor in New York. Flatley's latest Irish dance show is Celtic Tiger, which opened in July 2005. The show explores the history of the Irish people and Irish emigration to the US, fusing a wide range of dance styles, including jazz. The show also includes popular elements from his previous shows, such as Flatley's flute solos and the line of dancers in the finale
  Force, Beauté, Grandeur…d'un artiste hors norme.
"Feet of Flames" – Hyde Park – Londres – 1998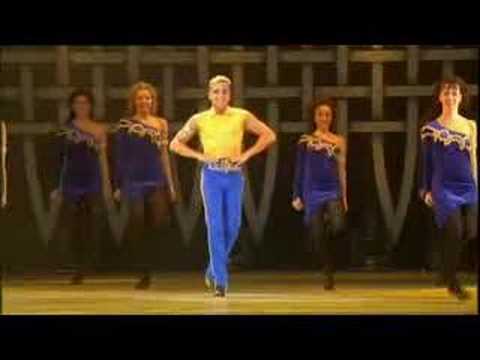 Michael Ryan Flatley est né le 16 juillet 1958 à Chicago.Issu d'une famille d'immigrants irlandais, il passera une grande partie de son enfance entre l'Irlande et les Etats-Unis.
 Il a été initié à la danse irlandaise par sa grand-mère, elle-même championne de danse, à l'âge de quatre ans. Mais ce n'est que plus tard, alors qu'il avait onze ans, que sa mère Eilish (elle aussi championne de danse irlandaise) l'a inscrit avec son frère et ses trois soeurs à ses premiers cours de danse.
Petit et peu impressionnant, il a du affronter des camarades d'école parfois difficiles. Pour remédier à cela il a décidé de prendre aussi des cours de boxe. C'est ainsi qu'il acquerra un certain respect, en devenant un des rares étudiants à gagner sa vie en multipliant les matchs de boxe amateur. Il remportera même plus tard le Gant d'or des Championnats de boxe amateur de Chicago.
Il deviendra le premier américain à remporter les championnats du monde de danse irlandaise. Il accumulera ensuite plus de 120 prix, dans 13 pays, et dans la plupart des Etats américains. Il est le plus jeune à avoir bénéficié de la "National Heritage" de Ronald Reagan, à avoir été reconnu comme l'un des plus grands interprètes de son pays par la fondation Artistique Nationale Américaine et à avoir obtenu une récompense pour ses qualités de danseur. La "National Geograhic Society" lui a décerné le titre de "Trésor vivant".
Enfin, il est entré dans le Livre Guinness des Records pour sa vitesse de claquettes avec 35 pas  à la seconde. Ses jambes ont été assurées par la Loyd's de Londres pour la modique somme de 45 millions de livres sterling.
Michael Flatley est aussi un flûtiste célèbre, et ses talents lui ont valu de remporter les championnats irlandais. Il ne se déplace jamais sans sa flûte, une pièce unique du 19ème siècle en bois de rose. Il a fait ses premières apparitions dansées en public en accompagnant le groupe de musique irlandais " Les Chiftains " lors de leurs spectacles.
 Mais, c'est avec la troupe de Riverdance qu'il s'est fait connaître du grand public, notamment lors du concours de l'Eurovision de 1994. Après avoir quitté la troupe de Riverdance pour des raisons de « divergences artistiques »,  il créera  les quatre troupes de Lord of the Dance , dont il est le chorégraphe et le directeur artistique. En 1998, il monte le spectacle Feet of Flames où il tient le rôle principal. Ce spectacle ne comptera qu'une seule représentation, dans Hyde Park à Londres. Une deuxième représentation un peu différente a été donnée en 2000 à Budapest en Hongrie. Michael Flatley a ensuite monté le spectacle Celtic Tiger.