A fairy (also faery, faerie, fay, fae ; euphemistically wee folk, good folk, people of peace, fair folk, etc.) is a type of mythical being or legendary creature, a form of spirit, often described as metaphysical, supernatural or preternatural.
Fairies resemble various beings of other mythologies, though even folklore that uses the term fairy offers many definitions. Sometimes the term describes any magical creature, including goblins or gnomes : at other times, the term only describes a specific type of more ethereal creature.
One common theme found among the Celtic nations describes a race of diminutive people who had been driven into hiding by invading humans. They came to be seen as another race, or possibly spirits, and were believed to live in an Otherworld that was variously described as existing underground, in hidden hills (many of which were ancient burial mounds), or across the Western Sea.
In old Celtic fairy lore the sidhe (fairy folk) are immortals living in the ancient barrows and cairns. The Tuatha de Danaan are associated with several Otherworld realms including Mag Mell (the Pleasant Plain), Emain Ablach (the Fortress of Apples or the Land of Promise or the Isle of Women), and the Tir na nÓg (the Land of Youth).
The concept of the Otherworld is also associated with the Isle of Apples, known as Avalon in the Arthurian mythos (often equated with Ablach Emain). Here we find the Silver Bough that allowed a living mortal to enter and withdraw from the Otherworld or Land of the Gods. According to legend, the Fairy Queen sometimes offered the branch to worthy mortals, granting them safe passage and food during their stay.
Some 19th century archaeologists thought they had found underground rooms in the Orkney islands resembling the Elfland in Childe Rowland. In popular folklore, flint arrowheads from the Stone Age were attributed to the fairies as "elf-shot". The fairies' fear of iron was attributed to the invaders having iron weapons, whereas the inhabitants had only flint and were therefore easily defeated in physical battle. Their green clothing and underground homes were credited to their need to hide and camouflage themselves from hostile humans, and their use of magic a necessary skill for combating those with superior weaponry. In Victorian beliefs of evolution, cannibalism among "ogres" was attributed to memories of more savage races, still practicing it alongside "superior" races that had abandoned it. Selkies, described in fairy tales as shapeshifting seal people, were attributed to memories of skin-clad "primitive" people traveling in kayaks. African pygmies were put forth as an example of a race that had previously existed over larger stretches of territory, but come to be scarce and semi-mythical with the passage of time and prominence of other tribes and races.
Fairies in religion.
In the teachings of Theosophy, Devas, the equivalent of Angels, are regarded as living either in the atmospheres of the planets of the solar system (Planetary Angels) or inside the Sun (Solar Angels) (presumably other planetary systems and stars have their own angels) and they are believed to help to guide the operation of the processes of nature such as the process of evolution and the growth of plants ; their appearance is reputedly like colored flames about the size of a human being. Some (but not most) devas originally incarnated as human beings. Less important smaller-in-size less evolutionarily developed minor angels are called nature spirits, elementals, and fairies. The Cottingley Fairies photographs in 1917 (revealed by the "photographers" in 1981 to have been faked) were originally believed to have been real by many Theosophists. It is believed by Theosophists that devas, nature spirits, elementals (gnomes, ondines, sylphs, and salamanders), and fairies can be observed when the third eye is activated. It is maintained by Theosophists that these less evolutionarily developed beings have never been previously incarnated as human beings; they are regarded as being on a separate line of spiritual evolution called the "deva evolution"; eventually, as their souls advance as they reincarnate, it is believed they will incarnate as devas.
It is asserted by Theosophists that all of the above mentioned beings possess etheric bodies that are composed of etheric matter, a type of matter finer and more pure that is composed of smaller particles than ordinary physical plane matter.
The Cottingley Fairies.
The Cottingley Fairies appear in a series of five photographs taken by Elsie Wright and Frances Griffiths, two young cousins who lived in Cottingley, near Bradford in England. In 1917, when the first two photographs were taken, Elsie was 16 years old and Frances was 10. The pictures came to the attention of writer Sir Arthur Conan Doyle, who used them to illustrate an article on fairies he had been commissioned to write for the Christmas 1920 edition of The Strand Magazine. Conan Doyle, as a Spiritualist, was enthusiastic about the photographs, and interpreted them as clear and visible evidence of psychic phenomena. Public reaction was mixed ; some accepted that the images were genuine, but others believed they had been faked.
Interest in the Cottingley Fairies gradually declined after 1921. Both girls grew up, married and lived abroad for a time. Yet, the photographs continued to hold the public imagination; in 1966 a reporter from the Daily Express newspaper traced Elsie, who had by then returned to the UK. Elsie left open the possibility that she believed she had photographed her thoughts, and the media once again became interested in the story. In the early 1980s, both admitted that the photographs were faked using cardboard cutouts of fairies copied from a popular children's book of the time. Yet Frances continued to claim that the fifth and final photograph was genuine.
The photographs and two of the cameras used are on display in the National Media Museum in Bradford.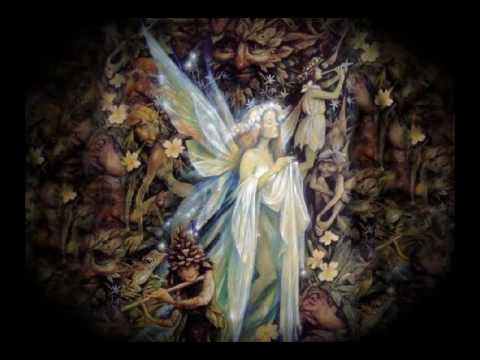 Eileen Ivers – "Bygone Days"   (Instrumental)
Les Fées dans la légende celte

Une Fée est un être imaginaire, généralement décrit comme anthropomorphe et du genre féminin (très rarement masculin), d'une grande beauté, capable de conférer des dons aux nouveau-nés, de voler, de lancer des sorts et d'influencer le futur. L'idée que l'Homme se fait des fées varie en fonction des cultures et des pays : revenants, anges déchus, élémentaires ou même humains, minuscules ou de taille humaine, toutes sont étroitement liées aux forces de la nature et au concept de monde parallèle. Ainsi, la Befana, la dame blanche, la sirène, les dryades, la fée Morgane et une grande variété d'êtres et de créatures généralement féminines sont considérés comme des « fées ». Les Anglo-Saxons utilisent le terme de « fairies » pour désigner les fées, mais également toutes les petites créatures anthropomorphes telles que les lutins, les nains et les elfes.
Les fées sont étroitement liées au concept de monde parallèle, tel qu'il est évoqué dans la mythologie celtique et à travers le mot irlandais sidh. Elles peuvent habiter de merveilleux palais, le plus souvent situés au fond des eaux ou sur une île, telle la mythique Avalon. Dans les récits à leur sujet, ces lieux merveilleux de l'Autre Monde peuvent être découverts par un homme lors d'un voyage ou d'une quête, mais les fées peuvent aussi enlever des humains pour les y conduire. Selon le folklore, personne n'est à l'abri d'un enlèvement féerique et celui-ci peut ne durer qu'un temps ou pour toujours, et se révéler plus ou moins dangereux pour le kidnappé. Une femme qui venait de donner naissance et ne s'était pas encore rendue à l'église était considérée comme particulièrement vulnérable. Les histoires divergent quant au sort des captifs : certains mènent une vie joyeuse, d'autres sont à l'inverse tourmentés, d'autres enfin désirent ardemment revoir leurs vieux amis. Au XIXe siècle, dans Lady Isabel and the Elf Knight, le chevalier-elfe est un avatar de Barbe-Bleue et Isabel doit le tuer afin de sauver sa vie. Tam Lin révèle que le personnage-titre, bien que vivant au milieu des fées et possédant leurs pouvoirs, est en fait un « chevalier terrestre » qui mène une vie agréable mais craint que les fées lui fassent payer la dîme de l'enfer. Sir Orfeo raconte comment la femme de ce dernier est enlevée par le roi de Faerie, et parvient à s'échapper par la ruse, grâce à son excellent jeu de harpe. Sir Degaré raconte l'histoire d'une femme qui vient à bout de son amant féerique, lequel est démasqué comme un mortel dans les versions ultérieures de l'histoire. Dans Thomas le Rimeur, Thomas s'échappe avec moins de difficulté mais passe sept ans au pays des elfes.
Une part considérable des légendes associées aux fées mentionne les histoires de changelings, leurre ou enfants de fées que ces dernières abandonnent à la place de bébés humains qu'elles enlèvent dans leur royaume.
Les fées sont associées à bon nombre de lieux qu'elles fréquenteraient, ou même qu'elles auraient bâti. Le cercle des fées, en réalité un phénomène mycologique, a longtemps été attribué à la danse des fées qui s'y déroulerait. On nomme chemin des fées (fairy path) les passages qu'elles empruntent, et fort de fées les castros circulaires que les fées habiteraient en Irlande. En Bretagne, le monument mégalithique La Roche-aux-Fées aurait été bâti par elles et vénéré en conséquence, il est le sujet du conte La Fée des Houx. Bon nombre de dolmens étaient, jusqu'à une époque récente, réputés être leur demeure. Paul Sébillot a relevé un nombre impressionnant de « grottes aux fées », « pierres des fées », « chambres des fées » ou « trous des fées » d'un bout à l'autre de la France, témoignant d'anciennes croyances. La croyance populaire associe toujours les forêts de Huelgoat, Fouesnant, Brocéliande (administrativement forêt de Paimpont), du Dartmoor et du Devon ainsi que les landes écossaises et Irlandaises à des demeures féeriques. Le Val sans Retour serait le domaine de la fée Morgane. Plusieurs lieux sont revendiqués comme étant le domaine de la fée Viviane, notamment le lac du château de Comper.
Les Fées et la religion.
D'après les enseignements de la théosophie, les Devas, l'équivalent des anges, sont considérés comme vivant dans l'atmosphère de la planète ou à l'intérieur du Soleil, et sont censés agir sur la nature, par exemple sur le processus de la croissance des plantes. Certains Devas sont plus petits et moins importants en degré d'évolution, ils sont nommés « esprits de la nature », « élémentaux » et « fées ». La croyance en la réalité des fées de Cottingley a été forte chez les théosophes, donnant lieu à bon nombre d'explications quant à ces êtres : les esprits de la nature, élémentaires, gnomes, ondines, sylphes, salamandres et fées peuvent être observés lorsque le troisième œil est activé. Les théosophes maintiennent que les êtres moins évolués n'ont jamais été incarnés auparavant comme êtres humains, et sont considérés comme une lignée distincte de l'évolution spirituelle humaine, appelée « l'évolution deva » : si leur âme progresse, ils peuvent se réincarner en tant que Devas. Les théosophes affirment que tous ces êtres possèdent un corps éthérique composé de « matière éthérique », substance plus fine et plus pure que celle que l'on trouve sur le plan terrestre. Le théosophe Edward Gardner a effectué de longues recherches concernant le folklore féerique et entendu de multiples témoignages relatant des observations d'êtres fabuleux et, dans The Coming of the Fairies, Conan Doyle met en avant le nombre élevé de rapports d'observations de fées ou encore le fait que son ami William Riley cite le Haut-Airedale et le Wharfedale comme des lieux où sont consignées des observations de pixies comme autant d'arguments en faveur de leur existence. D'après lui, le petit peuple est aussi nombreux que la race humaine, et pourrait vivre à la surface de la Terre, séparé par une différence vibratoire.
Les Fées de Cottingley.
Au sortir de la Première Guerre mondiale, la population anglaise est ouverte au merveilleux et l'affaire des fées de Cottingley en 1917 donne lieu à un long débat sur l'existence du petit peuple. Arthur Conan Doyle est persuadé de l'authenticité d'une série de cinq photographies prises par Elsie Wright et Frances Griffiths à Cottingley dans le Yorkshire au Royaume-Uni en 1917. Il publie en 1922 The Coming of the Fairies après deux articles très sérieux dans le Strand Magazine montrant ces clichés des deux filles en compagnie d'êtres du petit peuple. Soixante ans plus tard, en 1983, les deux auteurs admettent qu'il s'agissait d'une supercherie, mais Frances maintient qu'elle avait bien vu des fées. L'affaire des fées de Cottingley amène de nouvelles pistes de réflexion à travers de nombreux témoignages de personnes affirmant « jouer avec des elfes » ou « danser avec des fées » dans la région du Yorkshire, entre autres vers Skipton.