Gary Stadler is an American New Age pianist, composer, songwriter and producer, specializing in contemporary Celtic-influenced themes and atmospheres. Gary Stadler's six albums generally focus on imaginative concepts loosely based in Celtic mythology, especially stories of the realm of Faerie (Fairy of the Woods, Reflections of Faerie, Faerie Lullabies, Fairy NightSongs, Fairy Heartmagic, Deep within a Faerie Forest).
His music combines melodic elements of rare world instruments, mastery of synthesizer orchestrations and studio techniques. Three of his albums feature collaborations with vocalists Singh Kaur, Stephannie and Wendy Rule.
Gary Stadler's third album, Fairy Heartmagic was listed on Billboard's New Age Top 25 chart for four weeks in year 2000.  Several of his songs have been featured on compilations on multiple record labels in the USA and Europe.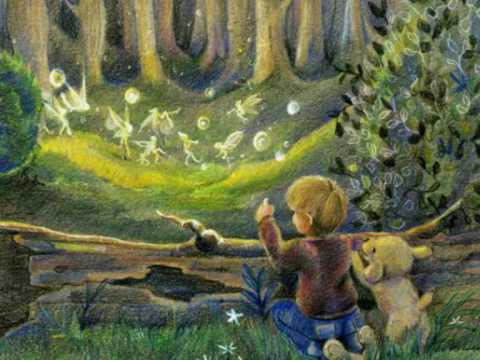 "Fairy NightSongs" – Gary Stadler and Singh Kaur
Lyrics
Sounds Of The Forest In Sweet Harmony
We Give The Gift Of Our Song To The Faery
Dancing A Spiral We Sing Unaware
The Faery Night Wings Our Song Fill The Air
The Songs In The Night
As We Dance Round The Flame
The Fairy Nightsongs Are Never The Same
The Words From Our Lips As We Sing For The Night
Impart To The Fay Our Hearts Truest Sight
ahh…..
Dancing A Spiral We Sing Unaware
On Faery Night Wings Our Songs Fill The Air
Making A Circle Of Magic And Light
Watched Silently By The Fay Of The Night
The Songs In The Night
As We Dance Round The Flame
The Fairy Nightsongs Are Never The Same
The Words From Our Lips As We Sing For The Night
Impart To The Fay Our Hearts Truest Sight
Our Hearts Full Of Love And Our Arms Open Wide
We Hold The Key To The Faeries Delight
Song In Our Hearts Belong In The Air
The Words Of Our Wisdom We Bring Forth To Share
The Songs In The Night
As We Dance 'Round The Flame
The Fairy Nightsongs Are Never The Same
The Words From Our Lips As We Sing For The Night
Impart To The Fay Our Hearts Truest Sight
Sounds Of The Forest In Sweet Harmony
We Give The Gift Of Our Song To The Faery
Dancing A Spiral We Sing Unaware
The Faery Night Wings Our Song Fill The Air