Amazing Grace est l'un des chants chrétiens les plus connus en Grande Bretagne,  en Irlande et aux Etats-Unis. En français, le titre est traduit de différentes façons, dont aucune ne semble s'imposer : Grâce merveilleuse, Grâce confondante, Incroyable pardon, Grâce infinie, Incroyable grâce, Grâce du ciel.
Chant religieux anglican à l'origine, puis protestant (il est caractéristique dans ses paroles : la rédemption est toujours possible), sa mélodie est reprise avec d'autres paroles (« Gloire à toi qui étais mort, Gloire à toi Jésus, … »), dans la liturgie catholique, en anamnèse (Mémorial après la consécration).
Le succès du negro-spiritual provoque également une renaissance de la mélodie de l'Amazing Grace dans le domaine de la musique celtique. C'est un des airs les plus joués à la cornemuse et il est notamment enregistré par les Royal Irish Rangers et par le Bagad de Lann-Bihoué.
Grâce étonnante, doux murmure,
Qui sauva le misérable que j'étais ;
J'étais perdu mais je suis retrouvé,
J'étais aveugle, maintenant je vois.
C'est la grâce qui m'a enseigné la crainte,
Et la grâce a soulagé mes craintes.
Combien précieuse cette grâce m'est apparue
À l'heure où pour la première fois j'ai cru.
À travers les dangers, les filets, les pièges
Je suis enfin arrivé.
C'est la grâce qui m'a protégé jusqu'ici,
Et la grâce me mènera à bon port.
Le Seigneur m'a fait une promesse,
Sa parole affermit mon espoir;
Il sera mon bouclier et mon partage,
Tant que durera ma vie.
Oui, quand cette chair et ce cœur auront péri
Et que la vie mortelle aura cessé,
Je posséderai, dans l'au-delà,
Une vie de joie et de paix.
La Terre fondra bientôt comme de la neige,
Le Soleil cessera de briller,
Mais Dieu, qui m'a appelé ici-bas,
Sera toujours avec moi.
Quand nous serons là depuis dix mille ans,
Brillant d'un éclat semblable au soleil,
Nous n'aurons pas moins de jours pour louer Dieu,
Que lorsque nous avons commencé.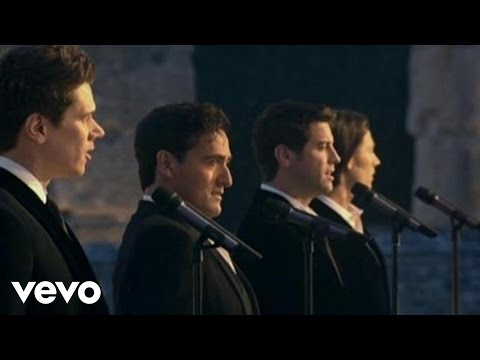 II Divo – Amazing Grace

Amazing grace, how sweet the sound,
That saved a wretch like me!
I once was lost but now am found,
Was blind, but now, I see.
'Twas grace that taught my heart to fear,
And grace, my fears relieved.
How precious did that grace appear
The hour I first believed.
Through many dangers, toils and snares
I have already come.
'T'is grace that brought me safe thus far,
And grace will lead me home.
The Lord has promised good to me,
His word my hope secures;
He will my shield and portion be,
As long as life endures.
Yes, when this flesh and heart shall fail,
And mortal life shall cease,
I shall possess, within the veil,
A life of joy and peace.
The earth shall soon dissolve like snow,
The sun forbear to shine;
But God, who called me here below,
Will be forever mine.
Aux six couplets écrits par Newton, s'ajouta dans la tradition orale afro-américaine un septième couplet qui appartenait à l'origine à une chanson intitulée « Jerusalem, My Happy Home » et publiée en 1790.
When we've been there ten thousand years
Bright shining as the sun,
We've no less days to sing God's praise
Than when we'd first begun.